Please feel free to send available kitten inquiries to [email protected] OR call/text me at 386-795-0778
Welcome to SunnyShores Toybobs! I'm guessing your first question would be…what is a Toybob?! Is it a tiny Ragdoll? Is it a stuffed animal? Is it really a toy? Well, while it may look like a sum of all these things, it's really not, but a breed all to its own. Originating in Russia in the early 80's, the Toybob has seen been selectively bred by breeders all over the world to bring you the cat we see today. Not a miniaturized version of another cat breed, not a cat with a dwarfism mutation, but a small, kitten-like cat with a kinked tail. Hence the name…Toybob! This is just a small synopsis of the breed, a lot more information can be found here, (toybob.org)
I am quite thrilled to be a member of the ITCC, International Toybob Cat Club, and I strive to produce healthy, socialized, sweet Toybobs just like I do with the Ragdoll breed.
Depending on their size, our kittens are ready to go to their new homes when they are between 16 to 22 weeks of age. Spay/neuter is done when they are 16-22 weeks old, as they need extra time to develop. Please remember they are the "World's Smallest Cat Breed." This is very important and ask for your patience when waiting for your new kitten. Breed preservation and, most of all, kitten health and development are top priorities.


My Toybobs
Top left to right: Charlie, Priestley, Moonsie. Bottom: LCWW Grand Champion Catatonic Midnight Rider aka Dallas
I am so grateful to all the breeders that have shared their cats with me. I owe the foundation of my program to Gigi Guerriero of Wonderland, Margo Hill of Singville, and Marilyn Mogle of Catatonic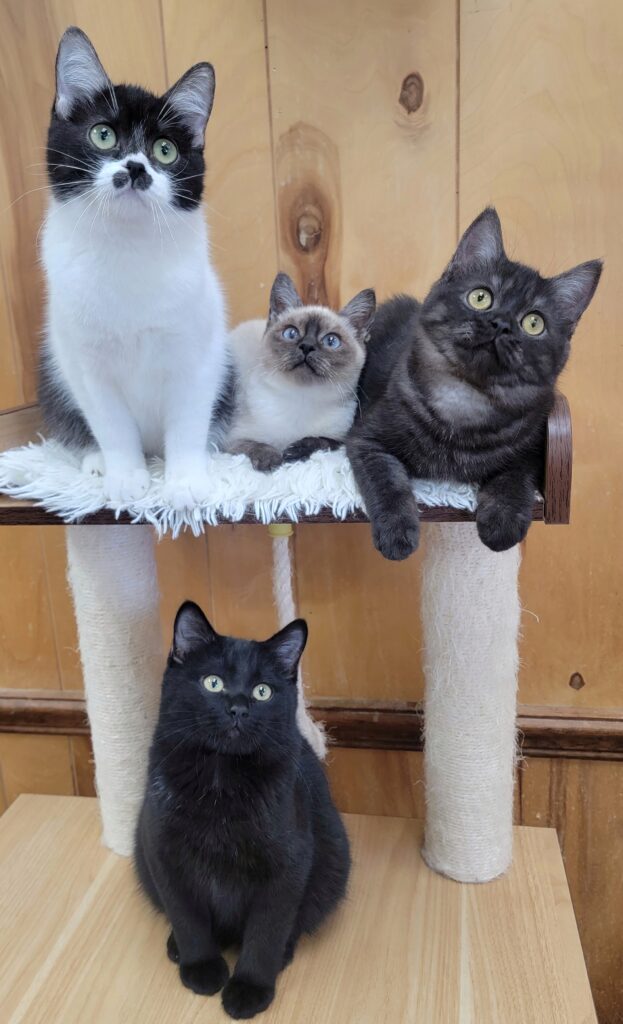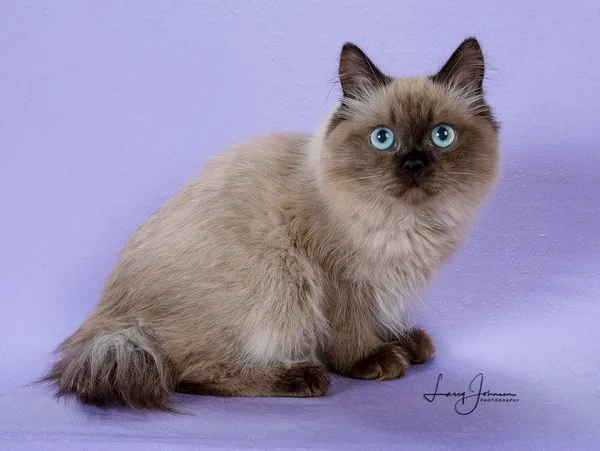 On loan to me is this gorgeous long-haired boy Wonderland Wolf. Bred by Gigi Guerriero of Wonderland, and owned Margo Hill of Singville. Looking forward to some long-haired Toybobs!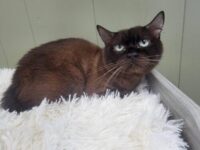 Russian Supreme Grand Champion Bel-Moors Corporate Identity Saro. A huge thanks to Anna Gromova, DVM for her trust in me. https://www.toy-bob.ru/
Available Kittens
I'm expecting babies in the fall of 2023!
Please feel free to send available kitten inquiries to [email protected] OR call/text me at 386-795-0778
All kittens go home 

with:
~Age-appropriate kitten vaccines
~A Kitten Birth certificate and Pedigree
~All pet and show alter kittens will be spayed or neutered
~A Florida State Health Certificate (which includes an examination from my veterinarian, a negative feline leukemia/feline AIDS test, age-appropriate vaccines, a negative fecal test, and deworming)
~30 days of free pet insurance with Trupanion
~TICA, CFA, and/or LCWW registration papers
~Implanted HomeAgain microchip with registration paperwork
~First dose of Revolution Plus applied
~A baby blanket and toys
~Lifetime support from a knowledgeable breeder/veterinary technician with over 20 years' experience
Pricing
$500 deposits (which will come off the final price of kitten) are non-refundable but may be transferred to a different kitten/cat. Deposits are taken AFTER kittens are born to place a hold on a kitten so it will not be made available to anyone else.
Pet Quality.  $1000-$2500 plus state of Florida mandated sales tax of 6.5%.  A pet quality kitten is the perfect new addition to a family. They are sweet, loving, gentle, and playful.  While they may be less than perfectly marked, or may even have a long tail, they have all the "purrsonality" you're looking for. All pet quality kittens are spayed or neutered (no exceptions) and microchipped.
Show Quality.   $2800-$4000 plus state of Florida mandated sales tax of 6.5%.  A show quality kitten is a family pet first and foremost.  The difference? A beautiful, perfectly marked kitten that comes with showing rights!  These kittens will come as close as possible to meeting the written Ragdoll standard.  Show quality kittens are spayed or neutered (no exceptions) and microchipped.
Breeding Quality. Price Varies, based on markings, type and pedigree of each individual cat.  We offer breeding quality cats occasionally to small, registered catteries only which practice early spay/neuter.  Contact us for more details.  Anyone I sell a breeding cat to must share my ideals and goals for the Toybob breed.